Large type 3 chisel set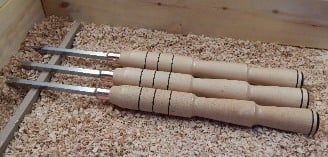 This is my large type 3 chisel set which has a 9 inch 12mm bright steel bar and 14 inch handle.
These chisels come with a 15mm round cutter, 15mm square cutter, and a detail cutter.
Made to the same standard as my other chisel sets, they are perfect when it comes to larger
bowls when that longer reach for hollowing out is needed and the extra weight gives more control.